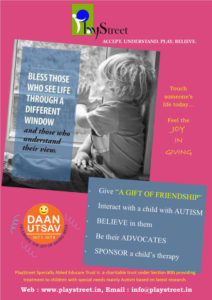 You've probably heard lots of different views about autism and you would have formed an opinion about it. Some of you would have understood autism as a person with exceptionally high intelligence and some you would have believed that people with autism prefer to stay aloof. We want to make sure you know what is true and what is false. We are putting together a few myths about autism to help put an end to any misconceptions. All of these are great for students to share with their classmates. If you're in college, get involved with us to create a difference, "A gift of friendship" is a program that involves college students and professionals in their awareness, advocacy and fundraising efforts.
People with autism don't want friends.
What is quality of life without friends? It's true that someone you know with autism probably struggles with social skills, which may make it difficult to interact with peers. They might seem shy or unfriendly, but that's just because he or she is unable communicate their desire for relationships the same way you do.

People with autism can't feel or express any emotion—happy or sad.
autism doesn't make an individual unable to feel the emotions you feel, it just makes the person communicate emotions (and perceive your expressions) in different ways. We must make an effort to understanding them better.
 
People with autism can't understand the emotions of others.
This is the greatest difficulty faced by people with autism, but if we believe in them and value their individuality, we can help them to overcome their difficulty. It's correct that autism often affects an individual's ability to understand unspoken interpersonal communication, so someone with autism might not detect sadness based solely on one's body language or sarcasm in one's tone of voice. But, when emotions are communicated more directly, people with autism are much more likely to feel empathy and compassion for others.
 
People with autism are intellectually disabled.
Often times, autism brings with it just as many exceptional abilities as limitations. Many people with autism have normal to high IQs and some may excel at math, music or another pursuit.
  
People who display qualities that may be typical of a person with autism are just odd and will grow out of it.
Autism stems from biological conditions that affect brain development and, for many individuals, is a lifelong condition.
Having speech is very important for children with autism to get out of their condition.
Just helping children to speak and build vocabulary is just not enough as it does not help in spontaneous communication and dynamic problem solving. The main component of autism intervention should be addressing communication and ability to form friendship.
People with autism will have autism forever.
Recent research has shown that children with autism can make enough improvement after intensive early intervention and right intervention. Having a correct placement in the mainstream schools and support from community helps families deal with the diagnosis in a much better way.
Autism is just a brain disorder.
Research has shown that many people with autism also have gastro-intestinal disorders, food sensitivities, and many allergies. The latest interventions based on neuroplasticity involve giving rich experiences to children to form new neural connections.
 
Autism is caused by bad parenting.

In the 1950s, a theory called the "refrigerator mother hypothesis" arose suggesting that autism was caused by mothers who lacked emotional warmth. This has long been disproved.
 
The prevalence of autism has been steadily increasing for the last 40 years. 
The rate of autism has increased by 600% in the last 20 years. In 1975, an estimated 1 in 1,500 had autism. In 2014, an estimated 1 in 68 had an autism spectrum disorder. In 2017, the recent statistical surveys now are suggesting that the onset autism has increased to 1 in 45 children.

Reference: www.autismspeaks.org
HOW CAN YOU HELP
"A gift of friendship" is a program that involves students and professionals to create awareness and fundraising efforts for PlayStreet Specially Abled Educare Trust. This program is for people who have family members or friends on the spectrum, or who want to make a difference for the autism community.
The "Volunteer Initiatives Team" at PlayStreet Specially Abled Educare Trust needs help of guides and volunteers for starting chapters and planning events in corporates, schools, colleges and communities. The "Volunteer Initiatives Team" guides the volunteers to handle the camps independently.
Why Should You Join?
Joining or starting an "A gift of friendship" chapter will help you learn to serve as a leader and autism advocate on campus and in the local community. Here are a few other reasons why you should join the "A gift of friendship" family:
To gain professional experience and earn volunteer hours. 

To acquire skills in marketing, fundraising, event planning, volunteer development and community outreach.

To connect with leaders and experts on autism for advice, ideas and future opportunities.

To help PlayStreet Specially Abled Educare Trust change the future for all who struggle with autism.

To create awareness on the condition which has a rise of 600% in last 20 years.

To be part of the movement to build an inclusive community.
Register today and bring an "A gift of friendship" chapter to your office, school, college and community! Then have your one-on-one introductory call with our "Volunteer Initiatives Team" and help "A gift of friendship" enhance lives today and accelerate a spectrum of solutions for tomorrow! 
There are many ways volunteers can help to deal with and be prepared for the epidemic rise in autism diagnosis.
Help us to organize awareness camps in your

office, school, college and community.

If you have a typical child and you come across a child with autism, then advocate the child to get a seat in mainstream school with your own child. Support the family by sharing your child's class notes.

Encourage your child to play with a child for 15 to 30 minutes a day and encourage your build genuine friendship with him/her.

Organise and participate in weekend sport activities by including children and families with special needs.

If you have a gift of music, dance or any other form of art, then voluntarily engage with children to give them a taste of your talent. You might be able to help a family to find their child's hidden interest and talent.

If you are a graphic designer, help us create content for our children, as our children are visual learners.

If you are a software engineer, then volunteer your free hours to help us building tools.

If you are a teacher, then empower yourself to include students with special needs in your classroom for meaningful inclusion.

If you are a doctor, spend a day with us to understand the recent and effective interventions to guide the families coming to you with respective concerns.

Sponsor a child's therapy.