Occupational therapy is a unique profession which looks at a holistic approach towards a person, i.e., not only at the reasons a person's participation in activities has been impacted, but also at their roles and environment. Occupational therapists help people across their lifespan take part in the things they want and need to do through the therapeutic use of everyday activities (occupations).
For children, their occupations involve school activities, play, self-care and care for others. The primary goals of childhood are to grow, learn, and play. It is a child's "job" or "occupation" to play, to develop physical coordination, emotional maturity, social skills to interact with other children, and self-confidence to try new experiences and explore new environments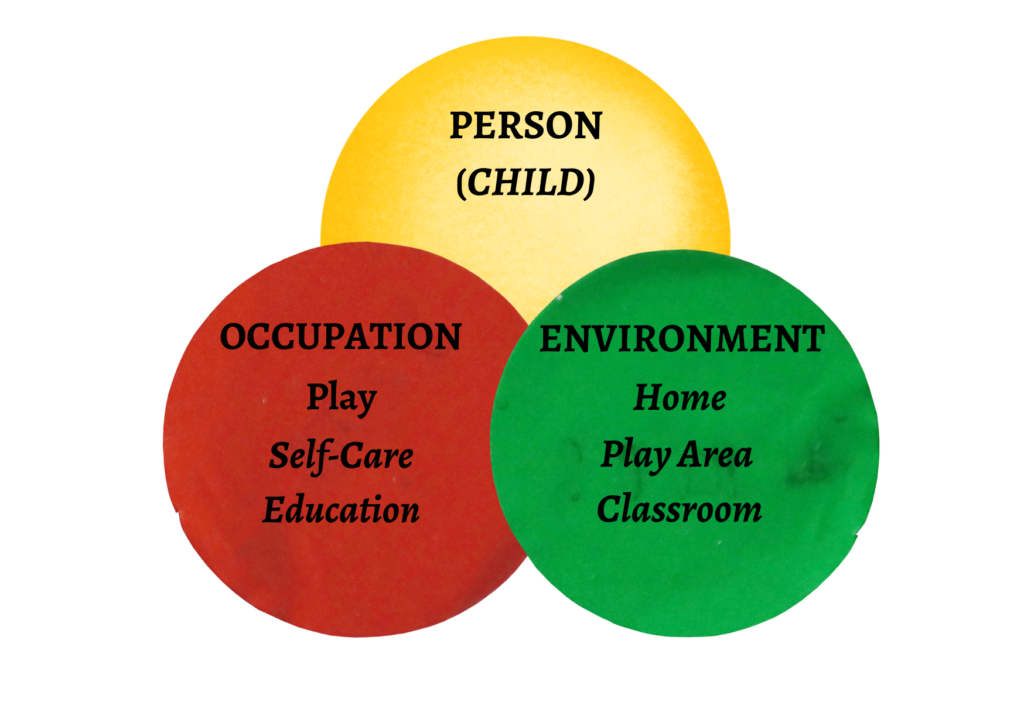 One thing that parents struggle the most with is when they're thinking about what equipment's/materials/toys they should buy to enhance their child's occupational performance.
We wanted to put together some information and tips about how to make an occupational therapy kit for your child. But, the first thing parents need to look at are to:
• Identify the challenges
• Discuss with their therapist
• Look for the equipment/materials easily available
• Get creative with one material
• Beware of any safety concerns
ASSEMBLING AN OCCUPATIONAL THERAPY KIT
SENSORY MATERIALS


Parents can create sensory area using simple materials like pillows, cushions, bedsheets, fidget toys, mattresses, table and chairs etc. Let's get more ideas how we can use these materials.

Pillows/Cushions, bedsheets and mattresses


Pillow and mattress can be a great tool to plan vestibular and proprioceptive activities for motor control, balance, core strength and arousal.

Jumping on pillows
Crashing on a mattress
Walking over pillows and cushions
Lifting heavy cushions and arranging
Pillow fighting
Deep-pressure massages with pillows/cushions
Rolling inside a bedsheet
Creating a hammock swing with a bedsheet
Swaddling in a bedsheet

Table and chair


There are plenty of gross motor and motor planning activities we can do with a table and chair.

Pushing and pulling a table and chair
Lifting and stacking chairs
Chair pushups
Jumping from a chair and crashing on a mattress
Rocking on a chair (if available)
obstacle-crossing activity

Sensory kit


Parents can create a sensory kit for their child if they have sensory processing challenges. This sensory kit can have a variety of tools/materials which helps the child to deal with his/her sensory challenges. This will help the child be calmer, aroused and organized for daily chores.




FINE-MOTOR KIT


One major area where an occupational therapist helps children is improving their fine motor skills. Parents can make a fine-motor kit and select materials that are easily available. The aim of the kit is to provide a range of fun activities which will improve their fine motor skills.
Here is a list of some materials you must have in your fine-motor kit.


VISUAL PERCEPTION KIT


Visual Perceptual Skills are what enable a child to look at an object, understand what it is, how it is similar to other objects, how it is different from other objects, if it is upside-down or right-side up, if a part of it is missing, how big it is, how far away it is from them, and how far away it is from other objects in the environment. Here are few easily available items to teach visual perceptual skills.


ACTIVITIES OF DAILY LIVING


The activities of daily living (ADLs) are used to collectively describe fundamental skills required to independently care for oneself, such as eating, bathing, and mobility. The best way to make children aware of and teach ADLs is to involve them in real-time activities.

Dining and kitchen area

Arrange dining table/chair
Share/pass food items/utensil/water
Offer to eat with different items like spoon/fork/hand
Arranging/sorting utensils/fruits/vegetables
Counting utensils/fruits/vegetables
Identifying items like fruits/vegetables/utensils
Scooping grains to fill boxes
Filling water bottles
Peeling boiled potato/peas/oranges

Dressing and bathing time

Fold clothes
Sort and arrange clothes in closet
Dry clothes
Pour water and try to apply soap in bathing time
Use different texture loofah/towel for sensory issues

Cleaning activity

Mopping
Table/Mirror cleaning
Bed making
Arranging toys

Please note that your child should get involved in ADL activities with interest and minimal demand. If we push the child to do the activities in a perfect manner, they will not feel motivated to do it.
Parents don't have to try all activities or spend a fortune on new toys and crafts. Just check the resources available at home or at low cost and see what may closely fit your child's interests, age range, and abilities. Visit your occupational therapist for more suggestions specific to your child.
RESOURCES:
• https://www.yourkidsot.com/telehealth-ot
• .https://www.theottoolbox.com/teletherapy-activities-for-occupational-therapy/
• https://www.nhsggc.org.uk/kids/resources/information-packs/fine-motor-activity-kit/
• https://anotmom.weebly.com/visual-perceptual-skills.html
• https://www.angelsense.com/blog/home-activities-for-autistic
• https://www.hackensackmeridianhealth.org
• https://www.growinghandsonkids.com
• https://www.ot-mom-learning