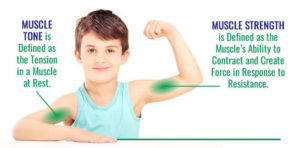 WHAT IS MUSCLE TONE?
Muscle tone is the maintenance of partial contraction of a muscle. It is the inherent resistance of the skeletal muscles to passive movement. Muscle tone is the resting tension in a muscle. A few motor units in the muscle continue to contract even in the resting state, thereby causing muscle tone. However, this tension is not so strong so as to cause a movement.
It is important for generating reflexes, maintaining posture and balance, controlling proper
functioning of the organ system.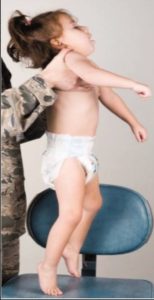 WHY IS MUSCLE TONE IMPORTANT?
Your muscle tone keeps you prepared to perform any action or movement, helps maintain
balance and posture, it generates heat that keeps the muscles healthy and ensures efficient flow of blood to them. Muscle tone allows for a quick unconscious response to any sudden internal or external stimuli.
These are some of the areas in which a healthy muscle tone provides an enhanced productivity,
Maintaining a well aligned posture.
Reduce the risks of postural dysfunctional diseases in the later stages of life. E.g., Sprains, arthritis, spondylitis, spondylolisthesis etc.
Ensure joint stability and strength.
Leads to improved stamina
Healthy muscle tone reduces the risks of falling sick frequently.
Assists in efficient functioning of the internal organs.
Ensures healthy bowel and bladder movements.
Improves the levels of attentiveness and alertness.
Muscle tone contributes in the speed and extent of movements that can be achieved.
WHAT IS NORMAL MUSCLE TONE?
Normal tone means that there is the right amount of "tension" inside the muscle at rest and
that the muscle is inherently able to contract on command. In other words, you tell your muscle to stop and start and it is able to do so with the appropriate amount of force.
Example:
Eating food kept in plate on a table.
You are sitting on a chair with your arms resting on your lap and you want to eat a bread that is kept in a plate on a table in front of you. Your hand will extend touch the bread, grasp it without
crushing it, bring it closer to the mouth (precisely directed towards the mouth) and eat. So basically, your muscles were able to do exactly what you wanted them to do with precision and coordination.
TYPES OF MUSCLE TONE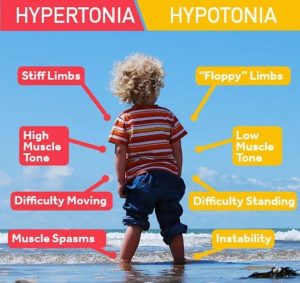 1. NORMAL MUSCLE TONE
Means there is the right amount of tension in the muscle and the muscle is in a prepared
state to contract appropriately on command.
2. HIGH MUSCLE TONE (HYPERTONIA)
Means there is excessive tension in the muscles even at rest. In other words, the muscles are
in state or tightness and contraction even though not performing any function. These
muscles when demanded for a movement may perform sudden jerky, uncoordinated
movements and overshooting or undershooting the target. Thus, fail to reach the target.
E.g., When asked to give Hi5, the arm would either land before the target hand or beyond
the target hand like in spastic cerebral palsy.
3. LOW MUSCLE TONE (HYPOTONIA)
Means there is not enough tension in the muscles when at rest. Hypotonic muscles feel
slightly mushy or floppy when palpated. Hypotonic muscles may fail to provide graded
control over any movements performed. These muscles need to be awakened by warm up
activities.
E.g., Child with hypotonic muscles may struggle to sit upright for any amount of time, may
struggle with writing legibly.
SYMPTOMS OF POOR MUSCLE TONE
Decreased strength.
Increased flexibility and movement in joints.
Poor endurance.
Fatigues quickly.
Poor posture.
Increased flexibility.
Increasing susceptibility to injuries.
Poor persistence to gross motor tasks.
Lack appropriate body awareness.
Delayed speech.
Poor posture.
Low arousal levels.
Lack of attentiveness and interest in given tasks.
CLINICAL CONDITIONS RELATED TO MUSCLE TONE
1. Low muscle tone.
Delay in development of motor milestones.
Frequent dislocations of joints during playing.
Secondary deformities formed in the skeletal system due to poor posture.
Joint deformities formed due to inappropriate weight distribution across them.
Low muscle tone leads to increased stress on the ligaments and tendons causing them to
get injured quite frequently.
However, in some cases low muscle tone can be due to some underlying conditions that affect the brain, central nervous system or muscles. These conditions include :
Cerebral palsy.
Brain damage due to lack of oxygen at birth (did not cry immediately after birth)
Muscular dystrophy.
Degenerative diseases of the nerves.
Hypotonia can also be caused by genetic conditions. These conditions include:
Down syndrome
Prader -Willi syndrome
Tay -sachs disease
Trisomy 13.
2. High muscle tone
Appears to be rigid and hard to stretch out
Difficulty bending limbs
Difficulty reaching out hands and legs.
Difficulty turning head
Has a flexed knee posture
Difficulty walking on straight legs.
Toe walking is often observed
Contracture formations.
Increased muscle tone usually occurs along with an underlying condition These conditions include:
Cerebral palsy
Traumatic brain injury.
OTHER CONDITIONS LEADING TO ABNORMAL MUSCLE TONE.
Dermatomyositis
Compartment syndrome
Myasthenia Gravis
Amyotrophic lateral sclerosis
Mitochondrial myopathies
Poliomylitis
Fibromyalgia
HOW DOES MUSCLE TONE IMPACT VARIOUS ASPECTS OF DEVELOPMENT?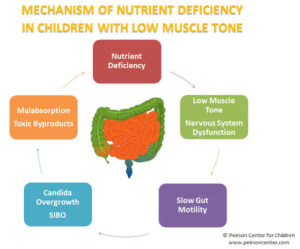 1. FEEDING: Poor muscle tone can reduce sucking ability, making feeding difficult.
Some infants may find it difficult to latch onto breastfeed or maintaining a lip seal
around the bottle. The infant may gain weight at a slower rate than other babies.
Some signs that indicate poor feeding due to weak muscle tone are:
excessive fluid loss during feeding
frequents breaks while feeding
constant drooling
flat cheek pads that help in sucking
unable to blow
weak bite force in children
difficulty in spitting
2. SPEECH: Speech difficulties can result from hypotonia. Children with low muscle
tone learn to speak later than their peers, even if they appear to understand a large
vocabulary, or can obey simple commands. Difficulties with muscles in the mouth
and jaw can inhibit proper pronunciation, and discourage experimentation with word
combination and sentence formation.
3. ACADEMIC PERFORMANCE: Difficulty with writing legibly is one of the common concerns observed in children with poor muscle tone. Due to poorly strengthened grip over the pencil children often adopt an adapted thumb wrap grip. This imposes an undue stress over the already hypermobile joints. Due to these concerns' children fail to develop drawing skills as well. Some of the other markers in academic skills indicating poor muscle tone, – Poor control over shoulder movements.
Difficulty sitting erect
Poor graphic skills to draw straight and curved lines
Avoidance of tasks that require attention and persistence.
4. EYES
Poorly focused eye balls.
Movement of eye balls with head movement
Delayed eye ball movement with respect to the head movement.
HOW TO ASSESS MUSCLE TONE?
Score
Definition
0
Hypotonia
Less than normal muscle tone: floppy
1
Normal
No increase in muscle tone. Firm muscles.
2
Mild
Slight increase in muscle tone. "Catch", in the limb
movement through less than half of the range of motion
3
Moderate
More marked increased in resistance through most of the
range of motion but affected part can be moved easily.
4
Severe
Considerable increase in resistance to movement. Affected part cannot be moved easily.
5
Extreme
Affected part is rigid in flexion or extension
Reference:
1. Martin K, Inman J, Kirschner A, Deming K, Gumbel R, Voelker L (2005)."Characteristics of hypotonia in children: a consensus opinion of pediatric occupational and physical therapists"
2. Modified Ashworth Scale (1987)
3. The American Academy of Pediatrics (September 2009), The Floppy Infant, characterizes
the distinguishing factors of hypotonia and muscle weakness. Retrieved on October 2020
from https://pedsinreview.aappublications.org/content/30/9/e66
Websites:
1. https://www.healthline.com/health/hypotonia#outlook
2. https://skillsforaction.com/handwriting/motor-control
3. https://www.littlemoversphysio.com.au/post/hypotonia-low-muscle-tone-in-babies