PlayStreet turns 5! It has been a splendid journey in trying to make a positive difference in our children's life. Some of you have been our co-traveller for a longer duration while some became our friendly acquaintances.
We would like to take this opportunity for thanking each one of you personally for having faith in us and helping us to evolve our services with a vision of giving the best quality services with an approach that believes in forming a mindful relationship with a child.
PlayStreet is a unique experience because of our unique endeavours. Some of the unique things done by us are:
We are the first clinic to bring treatment based on Oral Placement Therapy to India, having helped almost 500 families so far across the world.
With a firm belief in naturalistic approaches to interact with a child and focus on developing communication as the foremost priority, we are the only centre offering an integrated school program which is based onHanen approach and RDI.
We developed a unique Parent Empowerment Program called NAUTI to empower the parents across the year with classroom trainings, discussions and video analysis to have a firm grip on their child's program.
We are the only RDI (Relationship Development Intervention)centre in Bangalore. RDI is a powerful approach which is based on the latest research on  the theory of neuroplasticity for autism intervention.
All our therapists are either certified or trained in the eclectic approach used by us.
Our Alternative and Augmentative solution called "PlayTalk" is the only structured program for developing language, communication, cognitive and functional development.
We use a unique Tool called "Goal Track" for monitoring and tracking the progress of a child. This tool is accessible to the parents enabling them to be part of their child's program with 24x7 access to their child's current goals.
We have developed an "SI Park" which provides a natural setup for Sensory Integration helping children to interact with the nature.
We believe in processes for a uniform, transparent and a quality service.
We are working towards helping families, who are taking services from us, to get a Disability Certificate to be able to get the required aid from Government.
We are a formal participant in the Inclusive India Movement at a national level to help our students get their right of being included in the mainstream.
We have been recognised for our unique vision and work, thus awarded Women Icons award for 2017 by BERG Singapore for innovation and excellence in Special Education.
We would like to extend our gratitude to you for being a part of our family in some way or other. We hope our association helps our children to achieve their full potential to live an independent and happy life.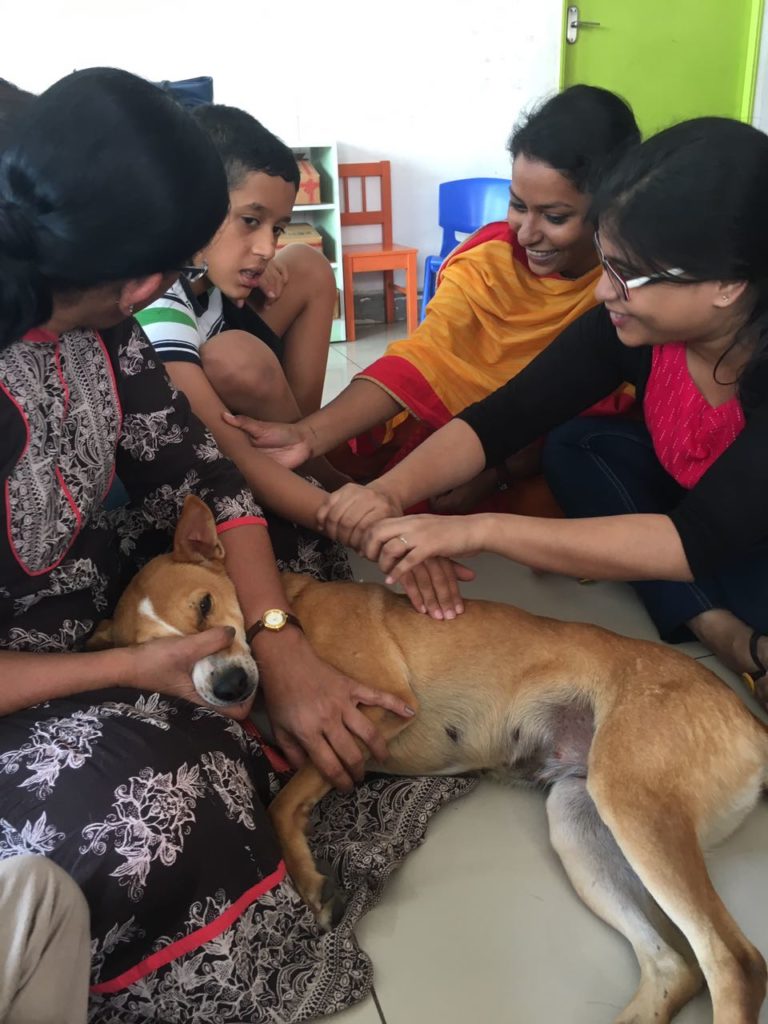 Three legged therapy dog Lucy visited us