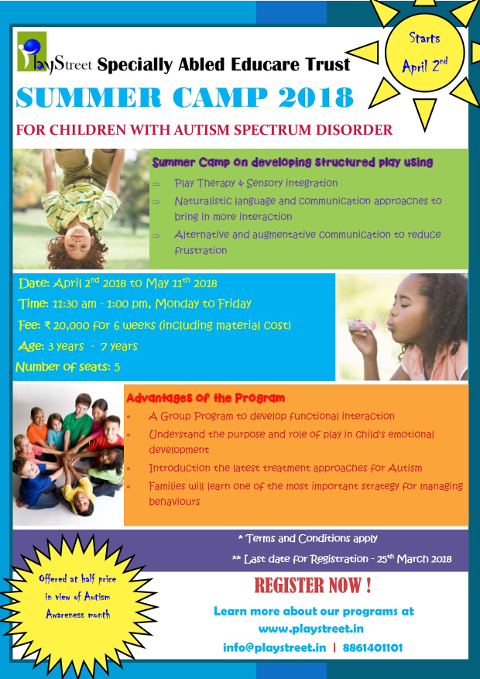 Fee: Rs. 20,000
Age: 3 years - 7 years
When
: 
2nd April 2018 to 11th May 2018
Time
: 
11:30 am - 1:00 pm
, 
Monday
 to 
Friday
Total number of seats: 5
PlayStreet Specially Abled Eduace Trust announces a 6 week Summer Camp in the view of Autism awareness month for children with Autism Spectrum Disorder. To enroll, send an email to 
info@playstreet.in
 or call us on 
+91 8861401101.
This is a very unique Summer Camp addressing sensory integration, motor skills, communication and interaction using Play.
Highlights of the program:
Informal assessment for Occupational Therapy and Speech Therapy will be done to know the baseline skills of the child. Since this is an informal assessment, report will not be provided.
Access to our unique s/w Goal Track will be provided for 6 weeks for families to map the play activities done at Summer camp with the developmental skills.
One day classroom discussion with our Directors on latest approaches on building the missing foundations in ASD.
One demo session on co-regulation.
Parents will be given one observation session per week to understand the approaches used in the program.
Its a group program.
Outcome of the Program:
Families understanding on how to improve child's communication.
Strategies of coping with sensory and motor planning difficulties. 
Training on improvising the independence in Activities of Daily Living
Enhancement of Fine Motor and Gross Motor skills through fun filled games and play activities.