DISCOVER YOURSELF WITH YOGA, MARMA CHIKITSA and HEALING
An online Yoga Shivir for well-being, health and healing
24, 25, 26 January, 2022
Are you ready to begin 2022 by rolling out your yoga mat for well-being, health and healing in a three-day camp with Dr. Ajay Dubey, a Himalayan yoga master and a spiritual guru with a PhD in Yogic Science on the 24th, 25thand 26th of January 2022?
PlayStreet Specially Abled Educare Trust is, for the first time, bringing a camp for everyone, NOT just for those with special needs. With this program we are opening our doors to offer services for all.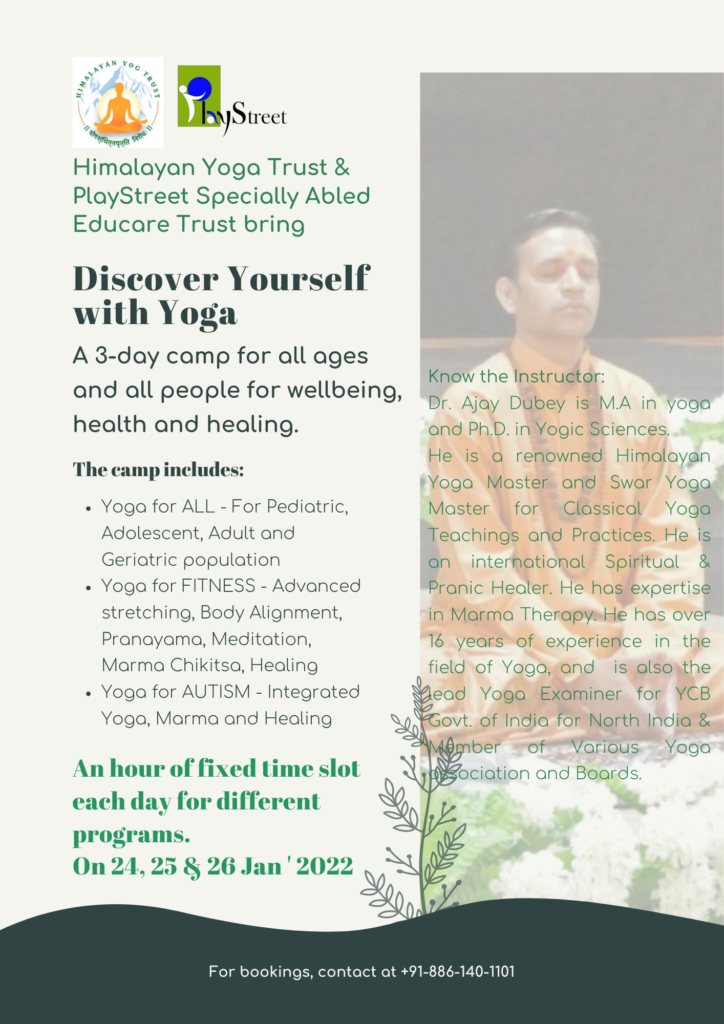 The camp will offer 3 types of services – Yoga for ALL, Yoga for FITNESS and Yoga for AUTISM.
YOGA FOR ALL
This is a program that covers the needs of every individual:
Support and nourishment to stay active for senior citizens,
Pre-natal and Post-natal support for women,
Support for good health for young adolescent girls and also for girls who have menstrual issues,
Last, but not the least, young kids between 6 and 12 can learn the yogic way to stay healthy and maintain a good state of mind.
YOGA FOR FITNESS
This is a very interesting set of workshops planned for people who want to move a step further and dwell deep into yogic practices. This program is offering a wide range of activities planned such as Pranayama, Meditation, Marma Chikitsa, Advanced Stretching and individual counselling sessions for maintaining good health.
YOGA FOR AUTISM
This is a need of the hour for all our special needs families. It is a combination package that has been tailored while keeping in mind our special kids, integrating yoga with MarmaTherapy and spiritual healing. Parents should be with the children to help them in this workshop and learn to keep offering these practices to children every day.
When: 24th, 25thand 26thJanuary '2022
Time: Each program has a fixed slot of around 1 hour and it has to be attended on all 3 days.
Duration: 1 hour each day at a fixed time slot
Fee: Variable for each program and mentioned below with each program. Fee is very nominal.
MODE:ONLINE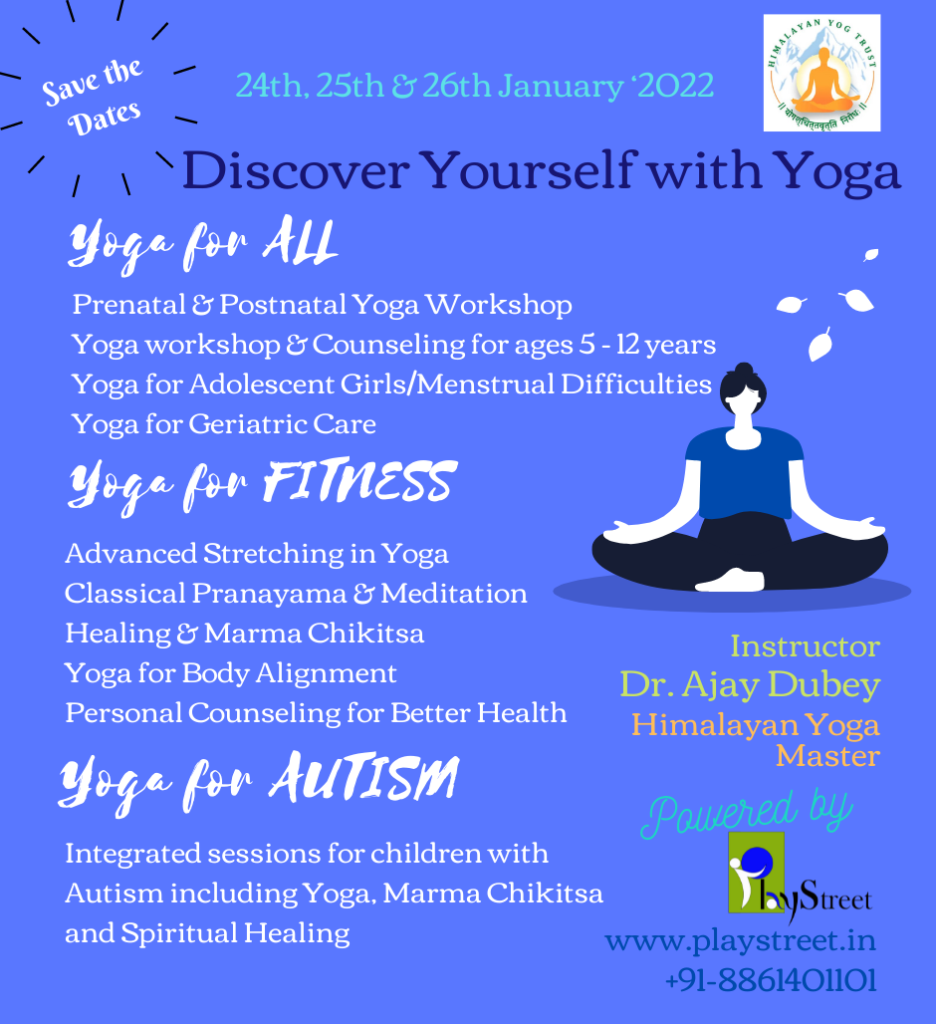 The details of the various programs are as follows:
Advance Stretching
Flexibility is the main indicator of good physical health. Over the time our body may lose flexibility due to aging, a sedentary lifestyle, working style, stress, improper posture and movement habits. This 3-day program teaches to boost the flexibility by practicing advance stretching regularly.
Yoga for Autism (Yoga, Marma Chikitsa & Healing)
Children with Autism often do not interact with the world surrounding them, and also, they are perceived by many as children having behavioural challenges. But the children might be exhibiting the behaviours due to frustrations because of lacking the motor planning for the task at hand.
Thus, with yoga we can help our children to do structured and predictable asanas to help building attention, attention span and motor planning. It also helps in hemispheric integration and bilateral coordination. The relaxation and calming techniques learned by children in this program can be the useful tools to help them to self-regulate in social situations. This helps to build their self-esteem and confidence which in turns helps them with interacting with other children and adults.
This program will demonstrate how Yoga, Marma Chikitsa & Healing directly impacts on the attributes of Autism in children.
Yoga, Marma Chikitsa & Healing for age 50 plus
Marma therapy is an important part of Ayurveda that helps to maintain health by cleansing blocked energy. In Marma therapy, a very light stimulation of points on the body is done. It removes blockages from the marma points giving physical and psychological relaxation and strength. This is a powerful process and a therapy that works with these subtle and sensitive energy points to open the energy channels in the body are called srothas.
This program will help the geriatric population to strive for well-being and good health.
Healing & Marma Chikitsa for All
Pranic Healing can be used to help in the healing of almost any physical and psychological condition by enhancing the body's capability to heal itself. It also helps to:
Reduce stress
Increase energy levels
Improve immune function
Marma therapies are profound and work at many levels – physical, emotional, mental and spiritual and can create dramatic shifts in the body.
Relief from chronic or acute pain, both locally and distally
Detoxification at all levels.
Significant improvement in bodily/organ functions, especially immunity, digestive, respiratory, neural & psychological
Healthier skin and a radiant appearance
Balances body temperature and can balance the doshas
Releases neuro-chemicals such as serotonin, melatonin for improved cognitive function and deeper sleep
Prenatal Yoga
When a woman is pregnant, practising yoga can help to reduce stress and manage other conditions like hypertension, mood instability, discomfort, aches and weight gain.
Studies have time and again shown how yoga soothes the body and the mind. When a woman is pregnant, practising yoga can help reduce stress and manage other conditions like hypertension, mood instability, discomfort, aches and weight gain.
Postnatal Yoga
Again, a lot of mothers experience postpartum emotional disorders after delivering the baby, and postnatal yoga can help them cope with it. Not to mention how it can help her regain strength, improve posture and increase energy levels.
Strengthens the body
Prenatal yoga helps strengthen key joints and muscles, preparing the body better for pregnancy and labour.
Enables regular exercise
Yoga helps pregnant women to stay active, and prevent issues like gestational weight gain, deep vein thrombosis and more.
Restores breathing patterns
Breathwork exercises can boost lung function, by reducing the potential strain placed on the respiratory system by pregnancy.
Alleviates stress & anxiety
Breathing exercises can also help calm the mind, and ease the symptoms of stress & anxiety pregnant women may face.
Personal Counselling
Personal Counselling gives you a safe space to explore your thoughts, feelings, and concerns. Unlike couples, family, or group therapy, Personal Counselling focuses solely on you. This allows for a deeper understanding of the issues and more time for developing coping strategies to help you handle difficult situations.
The goal of Personal Counselling is to inspire change and improve the quality of life through self-awareness and self-exploration.
Yoga for Adolescent Girls
Teenage years are turbulent and difficult, with all the hormones raging and mind in confusion. The practice of yoga has shown to help teenagers be more stable and calmer through these turbulent years.
Yoga quells the fluctuations of the mind, according to the Yoga Sutras of Patanjali.
In other words, it slows down the uncontrollable mental loops of frustration, regret, anger, fear, and desire that can cause stress.
Stress is one of the major causes of physical diseases in this age, and so in this case, if teenagers learn early on in life how to relax and calm their mind, they are likely to live healthier, happier and longer lives.
Please find all the programs with the time slots and respective fee.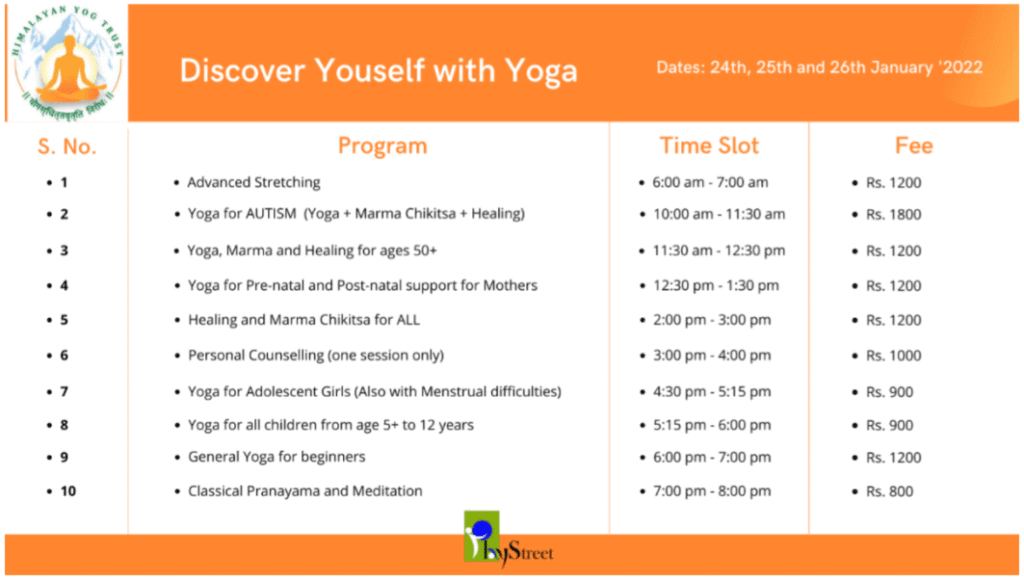 Please select the program that helps you and your child the most.
REGISTER HERE: https://forms.gle/B5B6Yvyg7JUvcDP4A
About the Instructor
Dr. Ajay Dubey born in a very spiritual Brahmin family of Sagar, Madhya Pradesh India in 1982. Guided and mentored by his grandfather he began to follow the path of Yoga at a very early age.
Graduated in B.com from Dr. Hari Singh Gaur University Sagar M.P 2002, immediately started following his interest towards the Vedic Shastra's and yoga he started his studies in Sanskrit followed by M.A in yoga in 2007. His persuasion towards yoga awarded him the (Doctorate) Ph.D. in Yogic Science 2011.
He is renowned Himalayan Yoga Master for Classical Yoga Teachings and Practices. He is international Spiritual & Pranic Healer along with Swar Yoga Master. He has an expertise in Marma Therapy.
Over 16 years of experience in the field of Yoga, Dr. Dubey has served various prestigious universities and Institutions. He has conducted multiple yoga Seminars /Shivir/Workshop across India & abroad. He is also the lead Yoga Examiner for YCB Govt. of India for North India & Member of various Yoga associations and Boards.