Register for training here
Hanen Trainings at PlayStreet
The Hanen Centre is a Canadian charitable organization with a global reach, founded about 35 years ago. Their mission is to enable parents and professionals to transform their daily interactions with young children to build the best possible lifelong social, language and literacy skills. This includes children with or at risk of language delays and those with developmental challenges such as Autism Spectrum Disorder. (1)
The Hanen approach believes in empowering parents first in order to help children the best.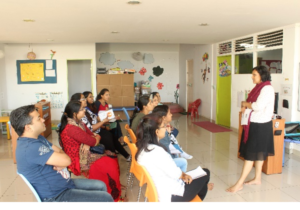 For many years, early language intervention involved speech-language pathologists "treating" a child in a therapy room with little or no parent involvement. In the early 1970's, research began to reveal that the involvement of parents in their child's early intervention was critical and that the earlier parents were involved, the better the outcome for the child. Research also showed that children learned best in their natural environments, where they were motivated to communicate with the important people in their lives. This required a significant change to the way speech therapy was offered to young children. (1)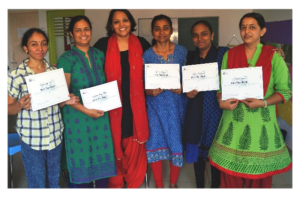 If you have a child with a language delay or a social communication difficulty, the desire to act and help them right away will be quite strong. The Hanen Centre's family-focused programs for parents are led by Hanen Certified speech-language pathologists (SLPs) who have received special training at a Hanen Workshop. Through the use of activities and group discussions, small groups of parents learn to create and take advantage of everyday opportunities to improve their child's communication skills. All Hanen Programs® use a combination of group training sessions (where only parents and the SLP are present) and individual consultations with the SLP (in which the child is present). This provides a comprehensive and personalized learning experience for each family participating in the program.
PlayStreet runs Hanen Programs either face to face or online by Hanen certified speech and language therapists every year. Below are the details about the program we run at PlayStreet.
More Than Words Program®
For parents of children with Autism Spectrum Disorder or other social communication difficulties.
The More Than Words® Program provides you with practical strategies for addressing your child's specific needs and building his communication and social skills during everyday routines and play.
To know more about the program, please click on this link: http://www.hanen.org/Programs/For-Parents/More-Than-Words.aspx
If you would like to register for this program, please do drop us an email at info@playstreet.in
It Takes Two to Talk®
The Hanen Program® for Parents of Children with Language Delays
The It Takes Two to Talk Program was specifically designed for parents of children with language delays. In a comfortable small group setting, you'll learn how you can build your child's language skills naturally during everyday routines and activities.
To learn more about the It Takes Two to Talk Program, click on this link: http://www.hanen.org/Programs/For-Parents/It-Takes-Two-to-Talk.aspx
If you would like to register for this program, please do drop us an email at info@playstreet.in